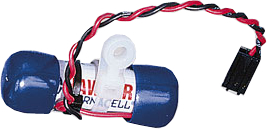 Energy+ B9592T

Part #:B9592T

Price: $18.95
Usually Ships in 2-3 Days:
Special order item may not qualify for free shipping.
Bulk Pricing
6 or more for $15.95each
---
This is a 1 cell Lithium Thionyl Chloride battery assembly specifically designed to work in Process Systems brand S-100S Sentry series recorders. Gold plated contacts, UV resistant plastic case, cable tie screw mount And wire leads to 3 position connector.
SPECIFICATIONS-
Manufacturer
Energy+
Part Number
B9592T
Model
B114134
Volts
3.6

Capacity

2500mAh (2.50Ah)

Chemistry
Lithium
Category
Utility Meter
Warranty
90 Day
Contacts
Wire Leads Connector
---
Process Systems brand S-100S Sentry series recorders